In our factory in China we have a a lot of models of Custom Flash Drives for Photographers. These flash drives for photographers are perfect to surprise your clients.
Their colors are ideal for any type of work and you can also customize them with your logo, a phrase or the design that you like the most. They are made of painted wood, have a USB 3.0 connection and capacities of 16Gb / 32Gb / 64Gb. Forget the traditional wooden pen drives and give a more personal touch of color to the presentation of your work!
China Factory and Manufacturers of Wood USB Flash Drives For Photographers
Description of wooden pen drives With our colored wooden pen drives you can give your work a more personal touch. These flash drives for photographers with USB 3.0 connection, are made of maple wood and painted to give it a finish according to each type of photography you want to present on them. Each wooden pen drive contains a solid state chip that is shockproof and electromagnetic proof. With 16Gb / 32Gb / 64Gb capacities, you'll have plenty of room for the largest jobs.
Wooden USB Features:
USB connection, support hot plug & play.
No external power supply.
Supports different types of operating system: Windows and MacOSX.
Solid state storage, shockproof and electromagnetic proof.
Durable data storage.
Fast read/write transfer speed. Equipment requirements: computer with USB connection. PC and MAC. Connection: USB3.0. Capacity: 16Gb / 32Gb / 64Gb.
These flash drives for photographers are closed with a magnetic cover that protects the USB port and isolates it from the outside.
How to configure the product and place your order? Choose the color of the wooden pendrive. Tell us if you want us to personalize the faces of the flash drive with full color UV printing. Don't forget to upload your image from the file upload box (only if you want us to personalize your wooden pendrives). Finally you just have to mark the units you want and add to the cart. What the wooden pendrives include: Pendrive made of wood with a capacity of 16Gb. The pendrive is painted with one of the 12 colors available. Full color UV printing of names or logo (if desired). What is NOT included: When ordering your flash drives for photographers, no other product that may appear in the photographs is included. From our store you can order other products such as the wooden box for photos and flash drive, which houses a hole inside with the exact measurements for these wooden flash drives.
FSC-certified
We have an obligation to take care of the forests, since they are the lungs of our planet. That is why at Benny Lane we only use wood from sustainable forests to manufacture our products. We are all responsible as consumers and, therefore, we want to bet on wood from responsibly managed forests, thus helping its conservation.
The FSC (Forest Stewardship Council) is an NGO founded in 1993. It is made up of representatives of social and environmental groups, timber and forest product traders, indigenous peoples' organizations, community groups with forestry interests, and forest product certification organizations from around the world. In EU it is promoted by WWF-Adena and Greenpeace. It guarantees that the certified wood comes from forests whose management pursues social and environmental sustainability, and that all the parties involved have been taken into account in the process until it reaches the consumer: producers, indigenous communities and workers.
Wood USB Flash Drives For Photographers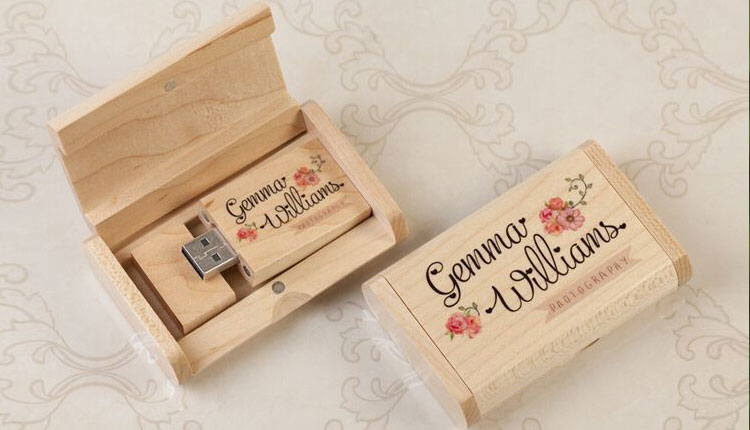 Wood oVal USB Flash Drive 2.0
[gravityform id="93" title="true" description="true"]
Frequent Asked Questions about Photographers USB Flash Drives
WHAT IS A USB FLASH DRIVE?
USB memory (Universal Serial Bus) is a type of data storage device that uses nand flash memory to store data and information. It is also called a memory stick, USB stick or flash drive.
WHAT DO YOUR RATE PRICES INCLUDE?
Our general price list shows different combinations since the price of a flash drive varies according to: Memory capacity (2, 4, 8, 16GB, etc.) order quantity It can vary depending on the type of marking and there are colors that can be a bit more expensive due to the cost of staining and treating the wood.
WHAT ARE THE READ AND WRITE SPEEDS OF USB FLASH DRIVES?
In our factory in China we only use the highest quality memories, among which are: Hynix, Samsung, Toshiba and Intel. Now here is a standard guide to our flash drive read/write speed: USB 2.0: Sequential Write Speed ​​Range = 5~10MB/s Sequential Read Speed ​​Range = 15~25MB/s USB 3.0: Sequential Write Speed ​​Range = 10~20MB/s Sequential Read Speed ​​Range = 40~90MB/s
Our company guarantees these minimum rates, being one of the few companies that are committed to supplying memories with good read/write rates. In the event of any operating anomaly, do not hesitate to contact us and we will find a solution.
HOW DO I HAVE TO PREPARE MY LOGO TO MAKE THE CUSTOMIZATION?
Normally a logo in vector format will be necessary, this format is made up of curves so it never loses quality. We have a logo vectorization service so if you only have a jpg or png format we can work with it. For printing images, jpg, png or tiff images with a minimum resolution of 150 dpi will be necessary.
ARE THE USB FLASH DRIVES 3.0 OR 2.0?
In capacities 8GB 16GB 32GB 64GB we offer 3.0 as standard speed. Being manufacturers, if you need 2.0 for an order, you can request a quote and we can provide it to you. In 2GB and 4GB we offer 2.0 since in those capacities 3.0 is difficult to obtain in the market. In any case, you can consult us and we will make arrangements..